THE ADVANTAGES
1. FLEXIBLE
Superior to rigid type structures. The hexagonal mesh construction permits natural adjustment to varying conditions of earth settlement without causing fracture or collapse of the structure.
2. DURABLE
Gaps between the stones silt up naturally as time passes. Silting supports the growth of grass and plants which serve as a bonding agent for the stone.
3. PERMEABLE
A Gabion structure allows water to pass through, water pressure cannot build up behind it and the structure is continuously drained.
4. STRONG
The flexibility of the Gabion structure provides the inherent strength to withstand and dissipate pressures exerted by water and earth masses.
5. ECONOMICAL
Filling materials are usually found on or near the site. No structural maintenance is needed and foundation work is usually unnecessary.
6. NATURAL APPEARANCE
Natural stone makes the structure aesthetically pleasing especially when subsequent vegetation growth takes place.
7. SIMPLE
Unskilled labour can be used for quick assembly.
8. MAINTENANCE
Gabion structures are easily maintained using additional mesh or grouting.
9. FUNCTIONABLE
Once the structure is built there is no waiting period – it functions immediately.
10. EXTENDABLE
Extensions are simple. Additional units are simply attached to the existing ones.
The gabion wire diameter can range from 2mm to 8mm and the gabion basket can either be welded or woven, galvanised or plastic coated, depending on application.
Baskets come in flat pack form and are assembled on site. They can be used in a range of applications from small domestic projects to large industrial schemes.
The infill to the baskets is usually locally sourced stone ranging from 200mm - 100mm. Hand facing ensures that the wall has good cosmetic appearance.
Gabion advantages include flexibility, durability, strength, permeability, economy, and landscaping.
Gabions have a wide range of uses, we have listed the most common ones below for your information. Contact us for any information you may need in regards to any of these uses.
Mass-gravity walls,Reinforced soil walls,Terrace walls,River canal lining,River training structures e.g. Groynes,Gabion weir or dam structures,Roadway culvert in or outlet structures,Low-level or Irish crossings,Longitudinal river structures
Biofilters,Rockfall mesh netting,River diversion structures,Architectural applications,Bridge abutments and protection.
STANDARD GABION SIZES
(80 x 100 x 2.7mm)
| | |
| --- | --- |
| 1 x 1 x 1 | 1,5 x 1 x 1 |
| 2 x 1 x 1 | 3 x 1 x 1 |
| 4 x 1 x 1 | 2 x 0,5 x 0,5 |
| 2 x 1 x 0,5 | 3 x 1 x 0,5 |
| 4 x 1 x 0,5 | 6 x 2 x 0,5 |
To suit site conditions the manufacture of other custom made sizes is possible.
Class A galvanized or with an additional PVC coating.

NOTES TO DESIGN ENGINEERS
Today, Gabions are recognized as a standard civil engineering material and as such, are specified on most civil contracts. A neat, well-defined structure is not only aesthetically pleasing, but is the first step towards a sound and durable structure.
We have found in the past, that of the few structures that have failed, most failures were due to poor construction. Great care should be exercised to ensure that the baskets are properly wired together, pretensioned, cross-braced and filled with stone that will not pass through the mesh.
We, therefore, draw particular attention to the construction procedure.
SECURITY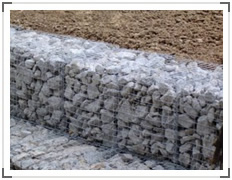 It is well known that gabions offer a formidable defense against enemy attack, such as rocket fire, bomb blasts, grenades etc. A 1m high wall around a farmstead offers some protection. Bunkers and bomb shelters can also be additionally protected with gabions.